Categories:
Other Brands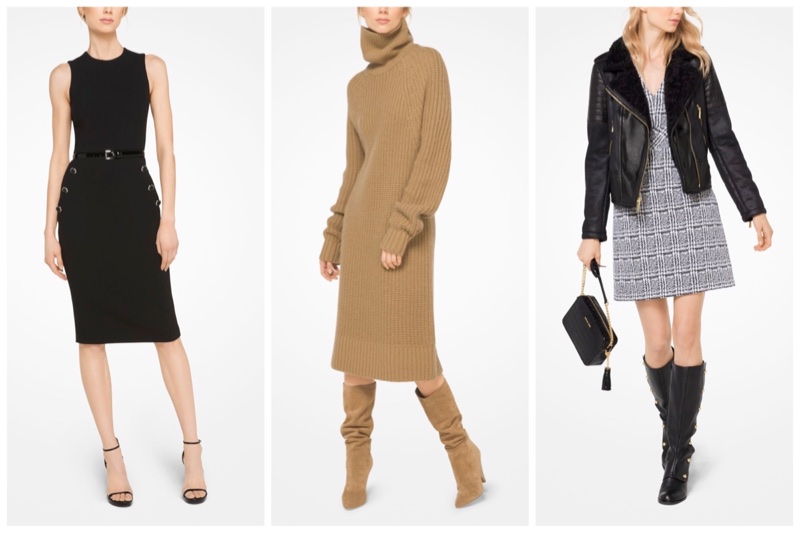 Michael Kors launches winter 2018 sale
Get ready to save with Michael Kors' semi-annual sale. Perfect for winter 2018, you can expect up to 50% off on clothes, shoes, bags, watches and wallets. Whether you're looking for a cozy sweater or leather tote bag, there's plenty of options. But don't wait too long to buy, because the sale ends on January 28th. Discover some of our favorites from the sale below and shop more at MichaelKors.com.
Related: Edita Vilkeviciute Enchants in Michael Kors 'Sexy Ruby' Fragrance Ad
MICHAEL KORS WINTER 2018 SALE PICKS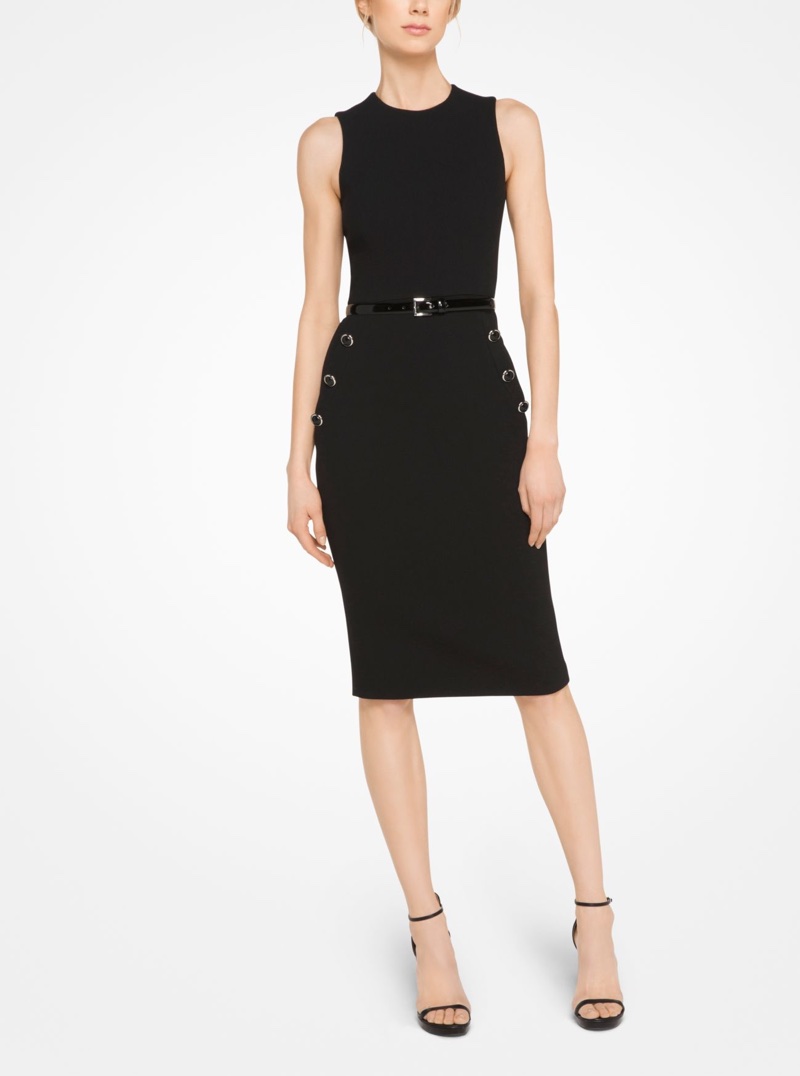 Michael Kors Collection Stretch Bouclé-Crepe Sheath Dress $508.50 (previously $1,695)
This classic sheath dress comes in a flattering crew neckline with button details.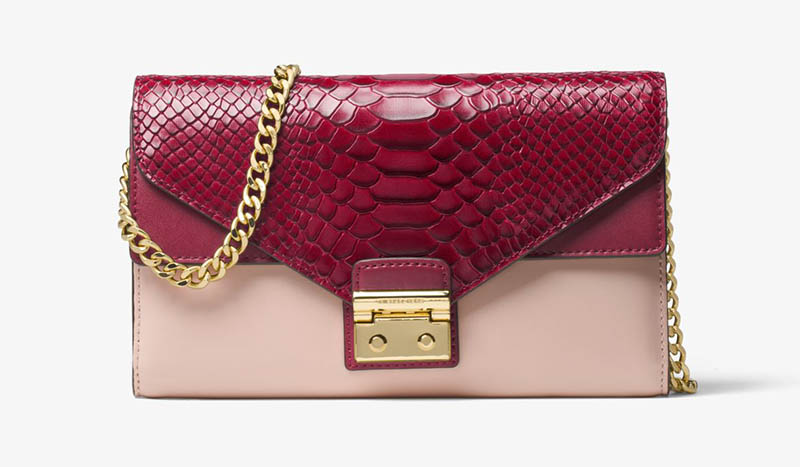 MICHAEL Michael Kors 'Sloan' Color-Block Leather Chain Wallet $136.80 (previously $228)
Made from a mix of smooth and snake-embossed leather, this color-blocked wallet features a gold chain-link strap.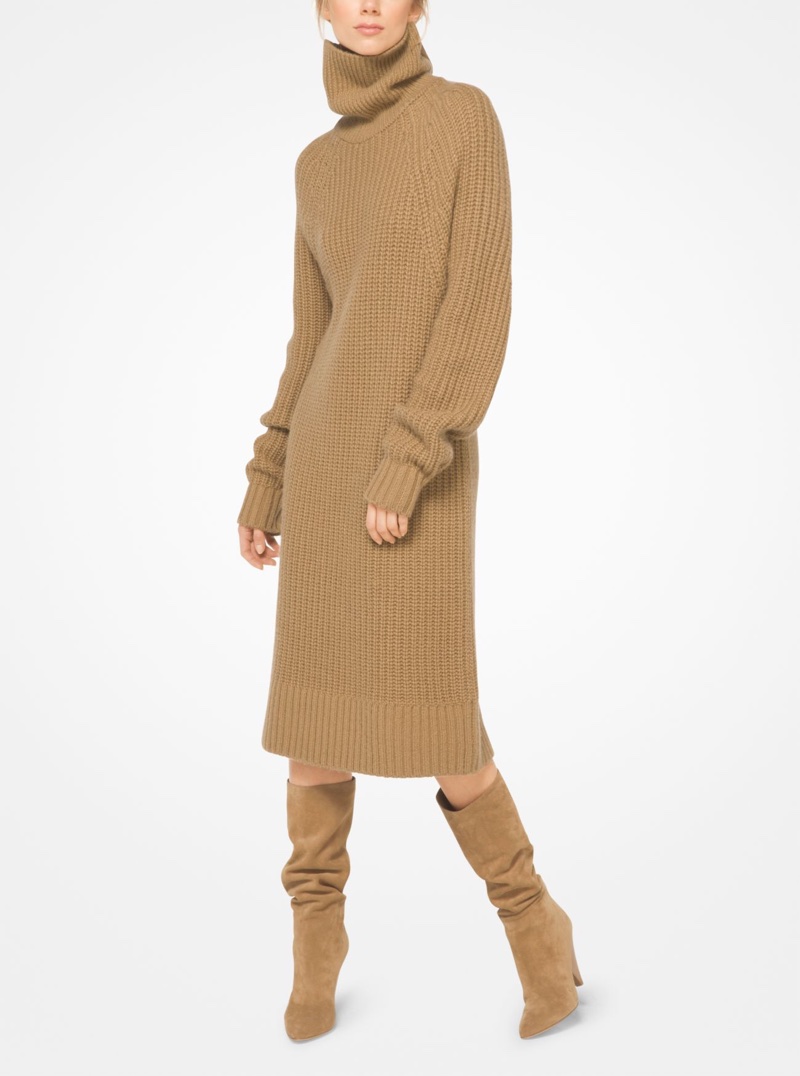 Michael Kors Collection Cashmere and Mohair Sweater Dress $532.50 (previously $1,775)
A luxe cashmere and mohair sweater dress comes in a tan brown hue.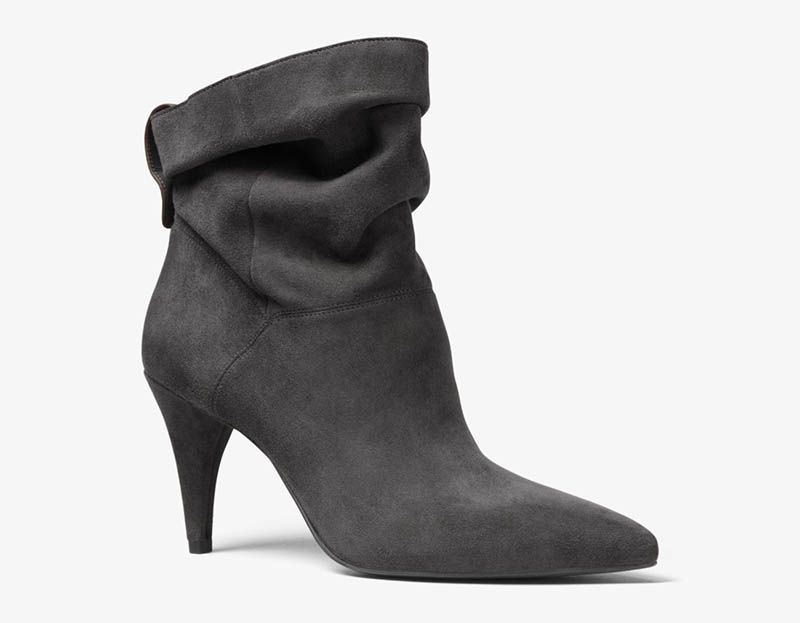 MICHAEL Michael Kors 'Carey' Suede Ankle Boot in Charcoal $95 (previously $175)
Made from suede, this slouchy ankle boot features logo detailing at the back.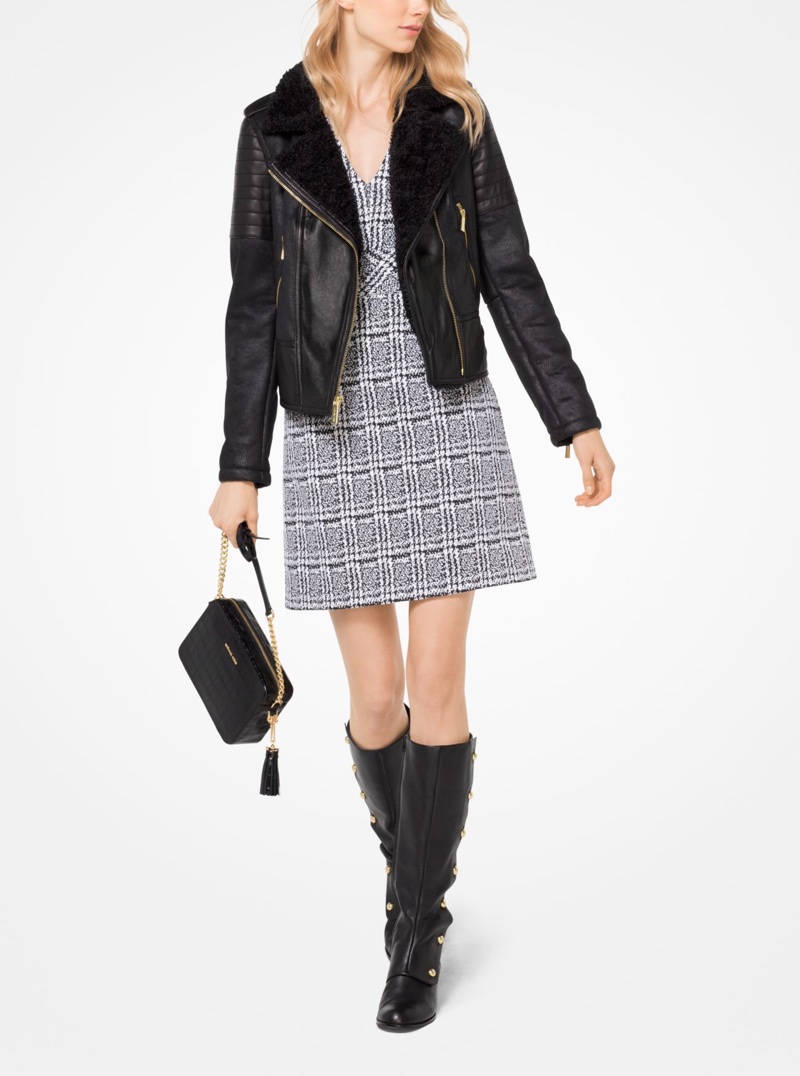 MICHAEL Michael Kors Faux-Shearling and Leather Moto Jacket $183.75 (previously $350)
Channel retro vibes in a leather moto jacket made with a faux-shearling collar.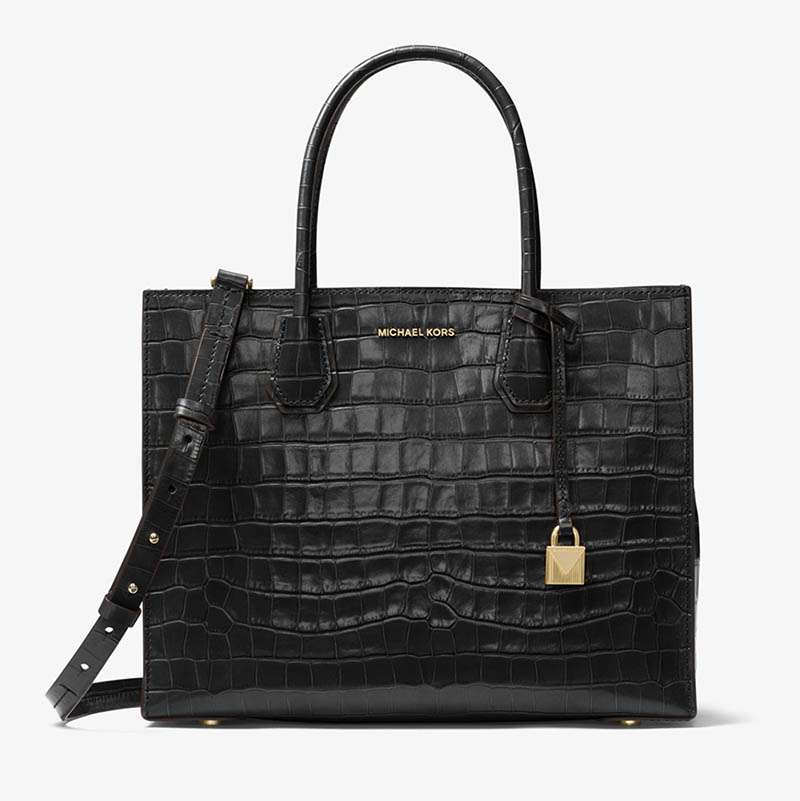 MICHAEL Michael Kors 'Mercer' Embossed-Leather Tote Bag $214.80 (previously $358)
Made from crocodile-embossed leather, the tote bag comes in a streamlined silhouette with a removable shoulder strap.
comnum(0) tbcount(0) tbcount(329)
Categories:
Other Brands
Last year was an exciting year for the O Case because a lot of new styles have been added to the collection. Some of them looked contemporary, others looked classic and timeless. For example; the Double Chevron Reissue 2.55 O Case, the Golden Class Double CC O Case, the Gabriele O Case, the Camellia Diamante O Case, the O Case with Cosmo Charm and the Archi Chic O Case.
For the Cruise 2018 Collection, there is one more style you should consider and it's a more luxurious version that comes with a steeper price tag. It's the Chanel Python O Case.
The Design
The shape and the design like the placement of the zipper and CC logo are exactly the same as the Classic Chanel O Case. However, the new python leather does change the experience and overall feel.
We're used to the diamond quilting or the chevron quilting versions, but the python version looks evenly classic and stunning. The top center is crafted with the same CC logo but in vintage gold hardware, which fits perfectly to the texture of the leather and the shade. There are more colors available, but you need to check with the SA at the boutiques.
The price of the Python O Case is obvious more expensive than the normal leather like lambskin. We will discuss the details below.
The Interior
Zip this O Case open to get into the interior. You will find one large compartment to store all your daily or evening essentials. Hold this chic pouch in special events like weddings, but also in formal meetings or for work.
The Prices And Sizes
Style code A82545, measuring 7.9' x 10.8' x 0.4' inches, priced at $2050 USD, €1900 EUR, £1760 GBP, $3190 SGD, $16600 HKD, $2950 AUD, 10030 MYR via Chanel boutiques.
comnum(0) tbcount(0) tbcount(314)
Categories:
Other Brands
Frida Aasen heads to the streets of New York City for the December 2017 issue of ELLE China. Photographed by Primol Xue, the blonde beauty poses in sporty styles featuring everyday pieces. Stylist Sean Huang makes sure Frida stands out from the crowd in knit sweaters, denim and sneakers. The Norwegian model wears the designs of adidas, Loewe, Chanel and more.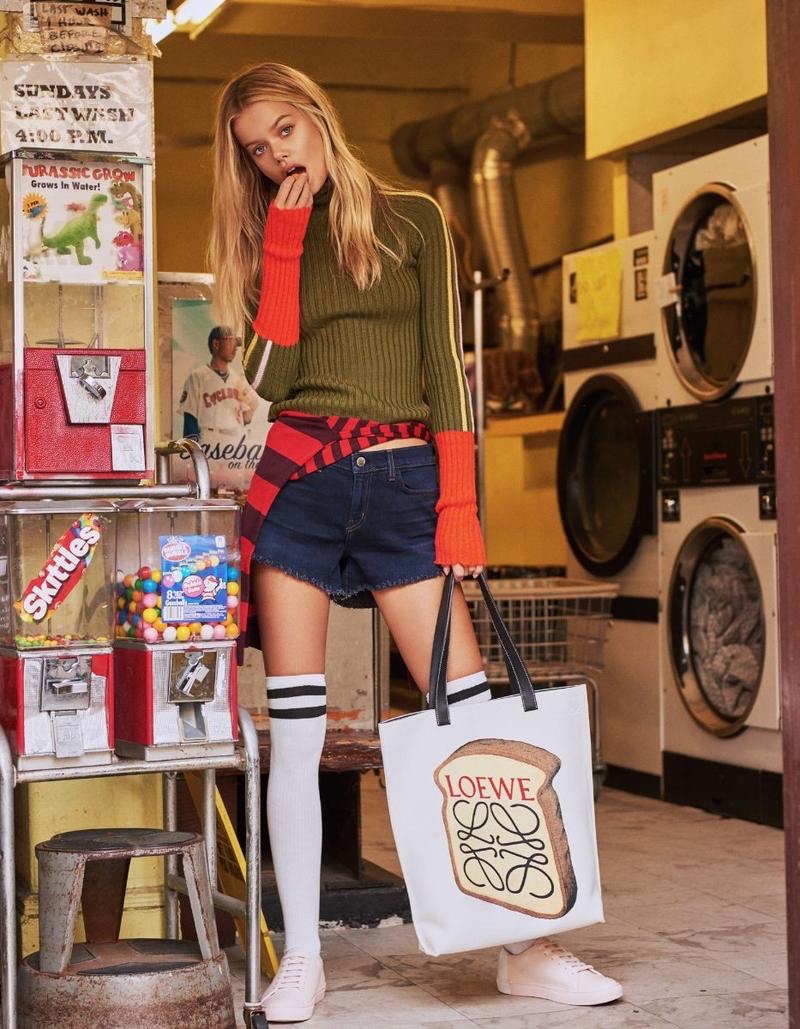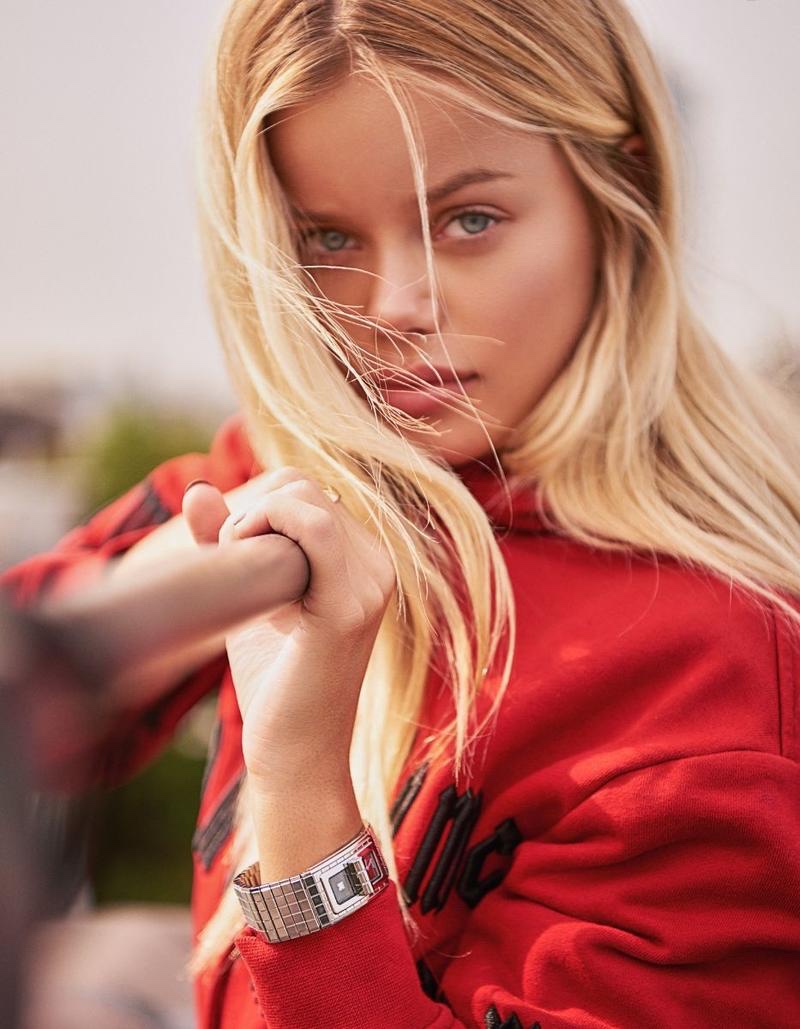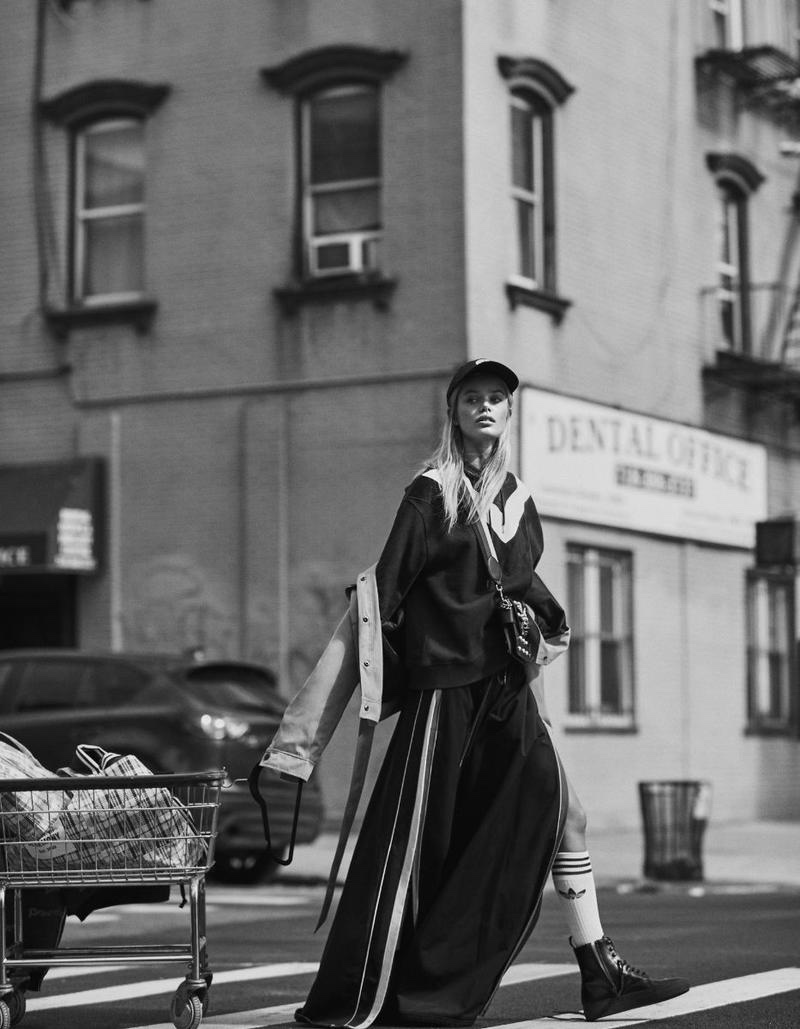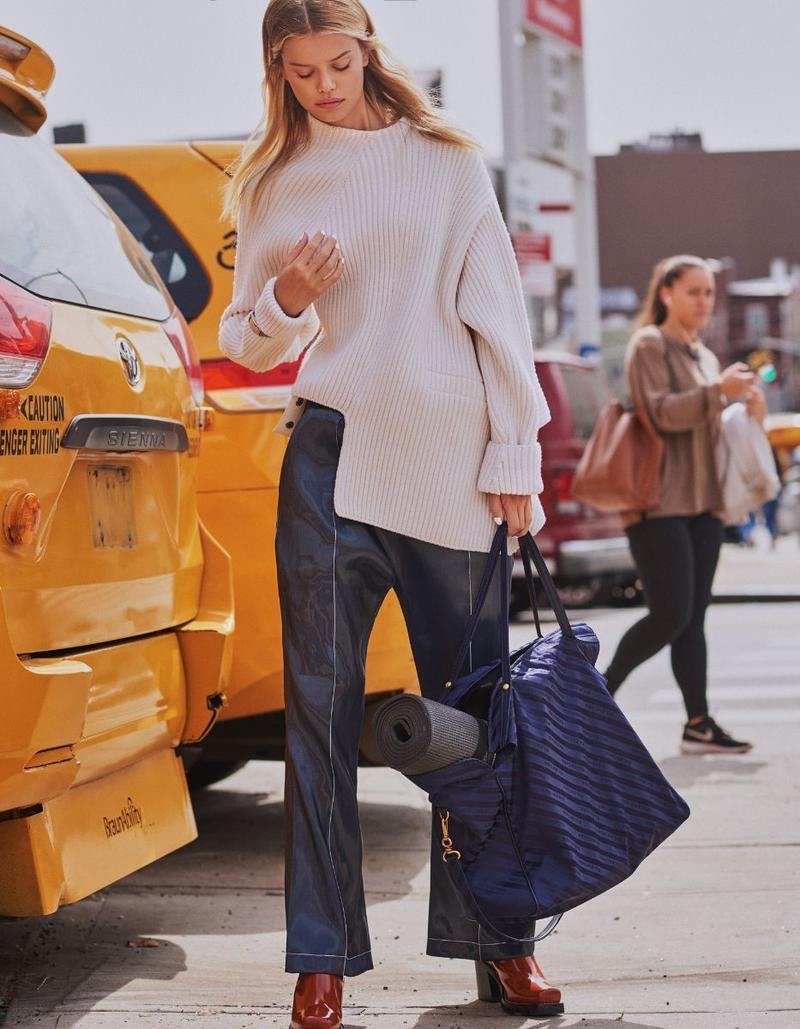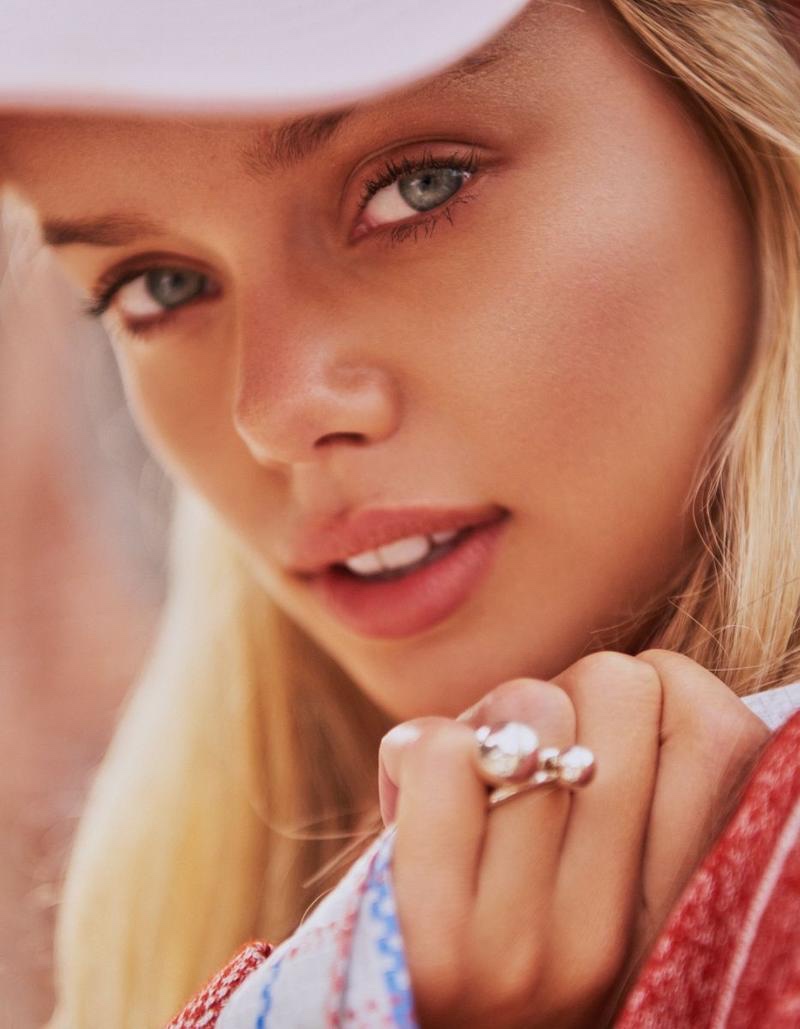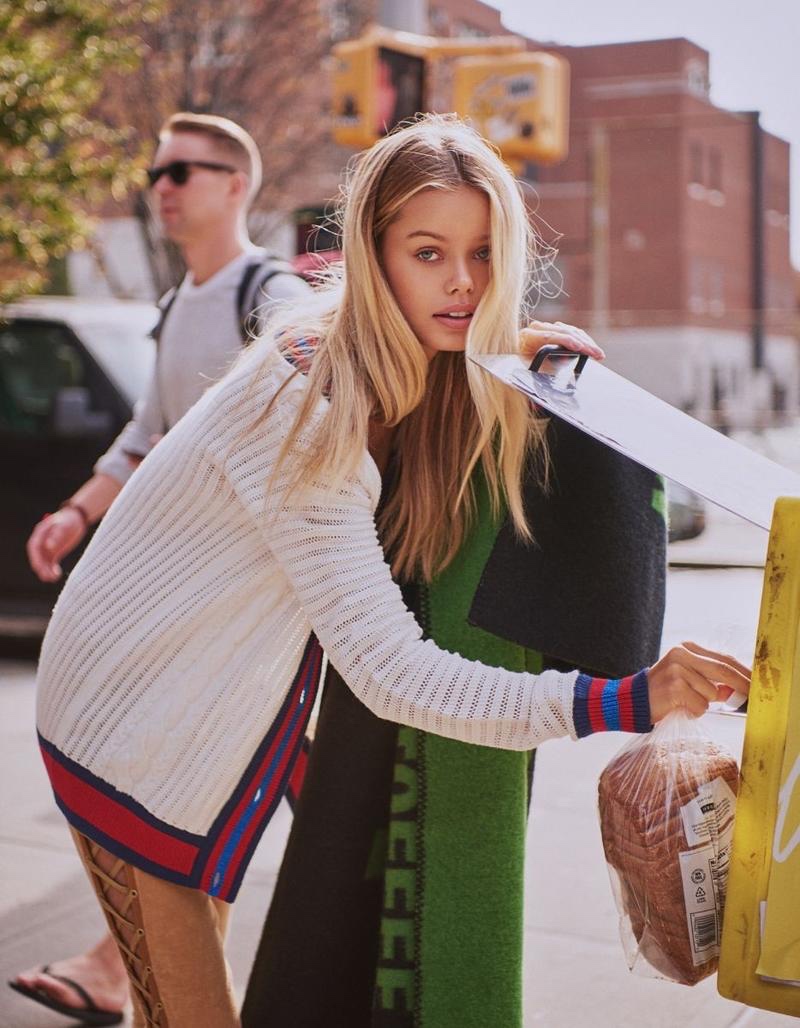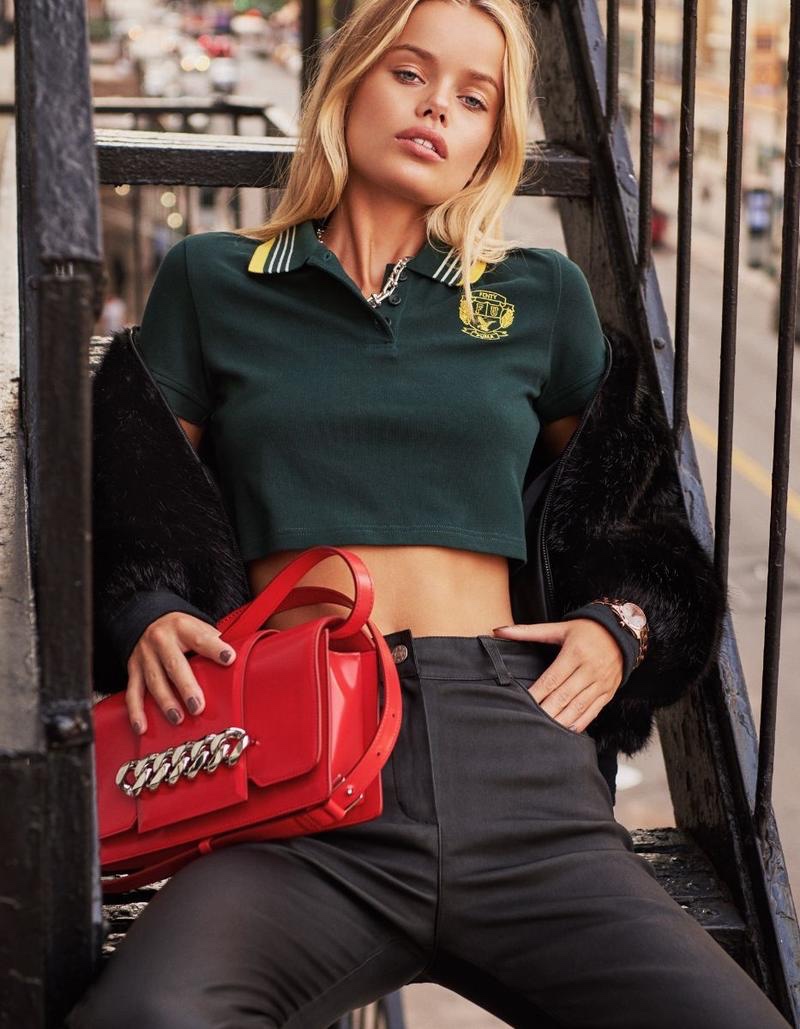 comnum(0) tbcount(0) tbcount(322)
Categories:
Other Brands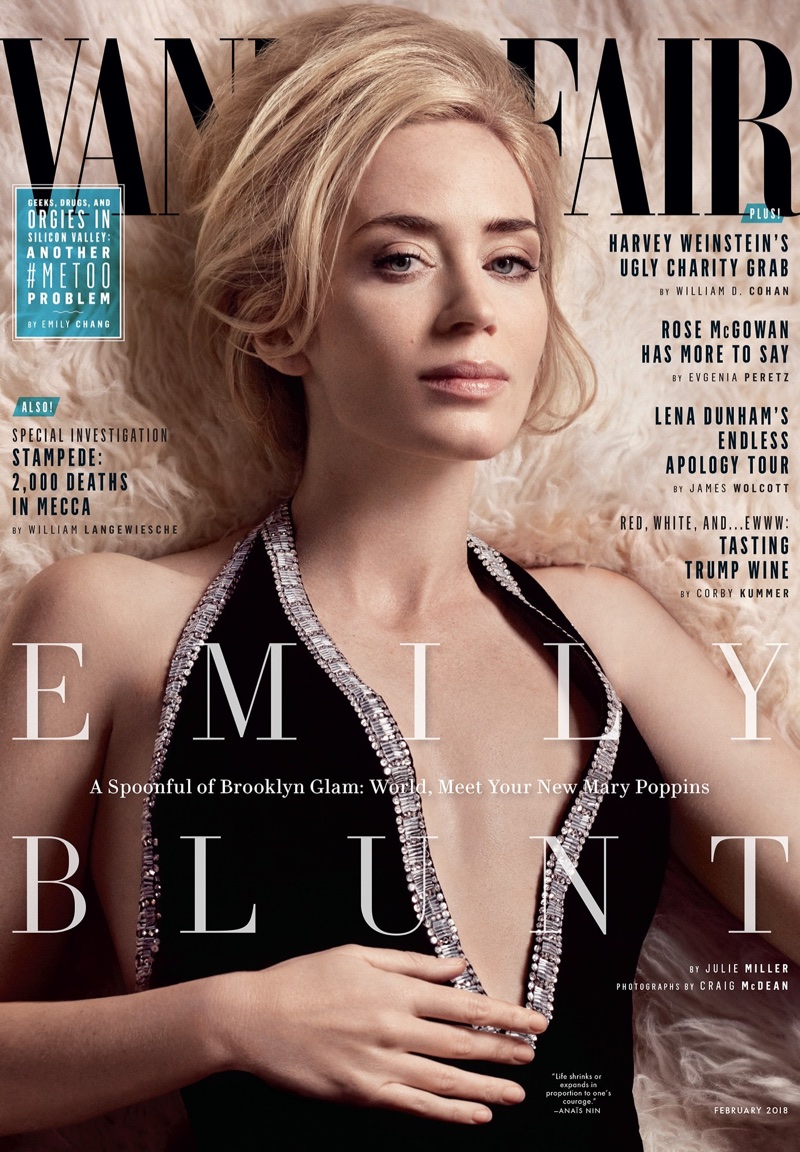 Emily Blunt on Vanity Fair February 2018 Cover
Actress Emily Blunt stuns on the February 2018 cover of Vanity Fair. The English beauty wears a black dress with sequins from Giorgio Armani. Inside the magazine, Emily poses on location at the Lotte New York Palace hotel while modeling glamorous looks. Photographed by Craig McDean and styled by Jessica Diehl, the blonde poses in the designs of Saint Laurent, Louis Vuitton and more.
Related: Emily Blunt Wears Minimal Suiting for C Magazine
COVER SHOOT: EMILY BLUNT FOR VANITY FAIR FEBRUARY 2018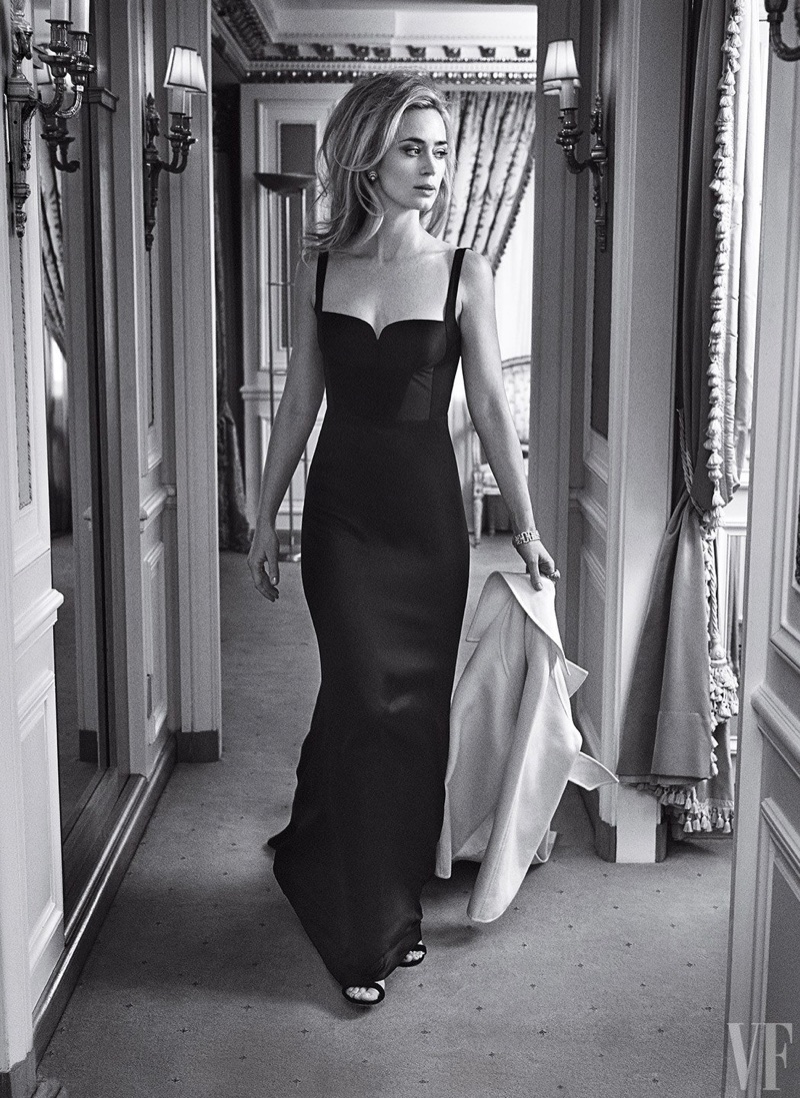 Photographed in black and white, Emily Blunt poses in gown
EMILY BLUNT ON WHAT MAKES A MOVIE SUCCESSFUL
In her interview, Emily opens up about her thoughts on movies and social media.
"I think a movie lives or dies on word of mouth and the trailer. I have seen people do endless social-media campaigns and the movie tanks, so I don't see a correlation. I strongly believe that my job is to persuade you that I am playing somebody else, so exposing too much personally is just something I can't get on board with."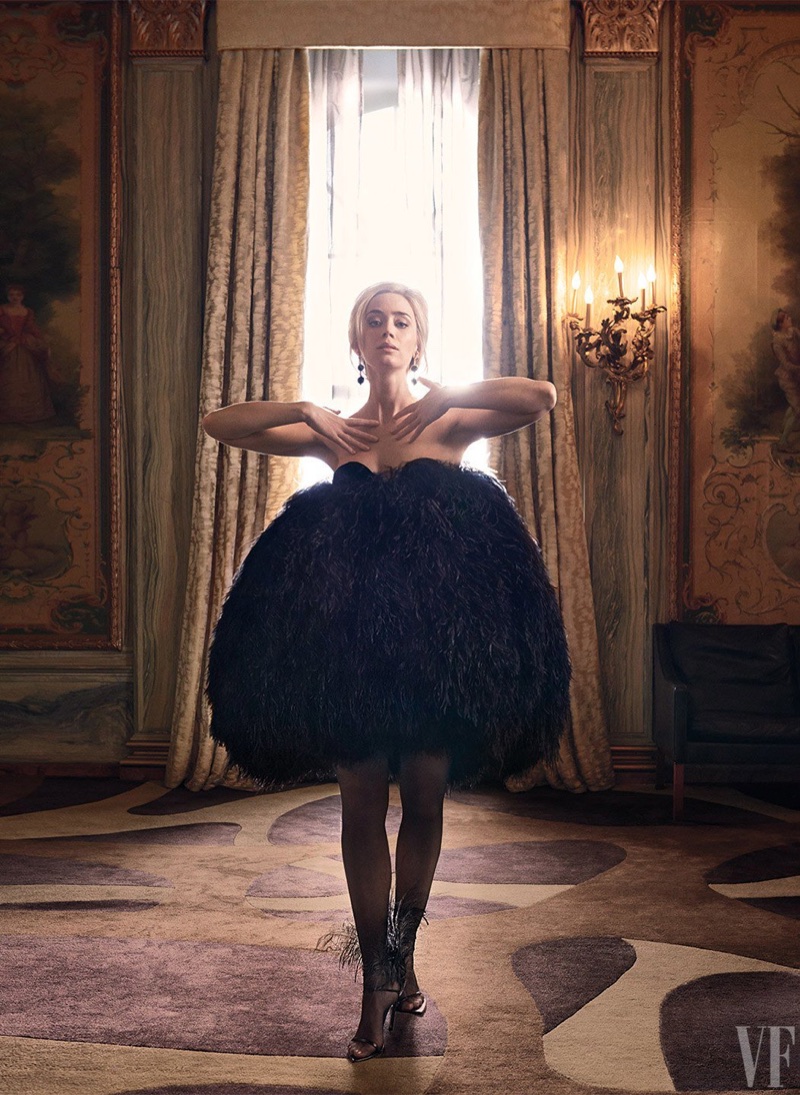 Actress Emily Blunt poses in Saint Laurent dress with feathers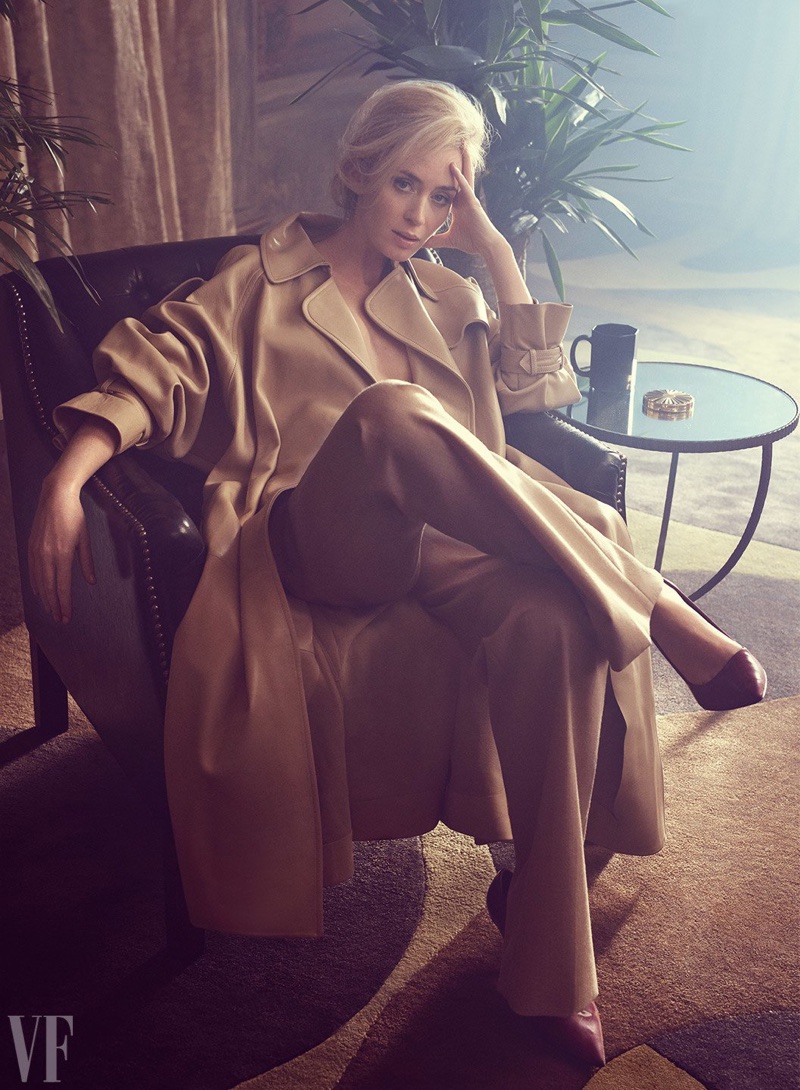 Emily Blunt poses in tan trench coat, pants and pumps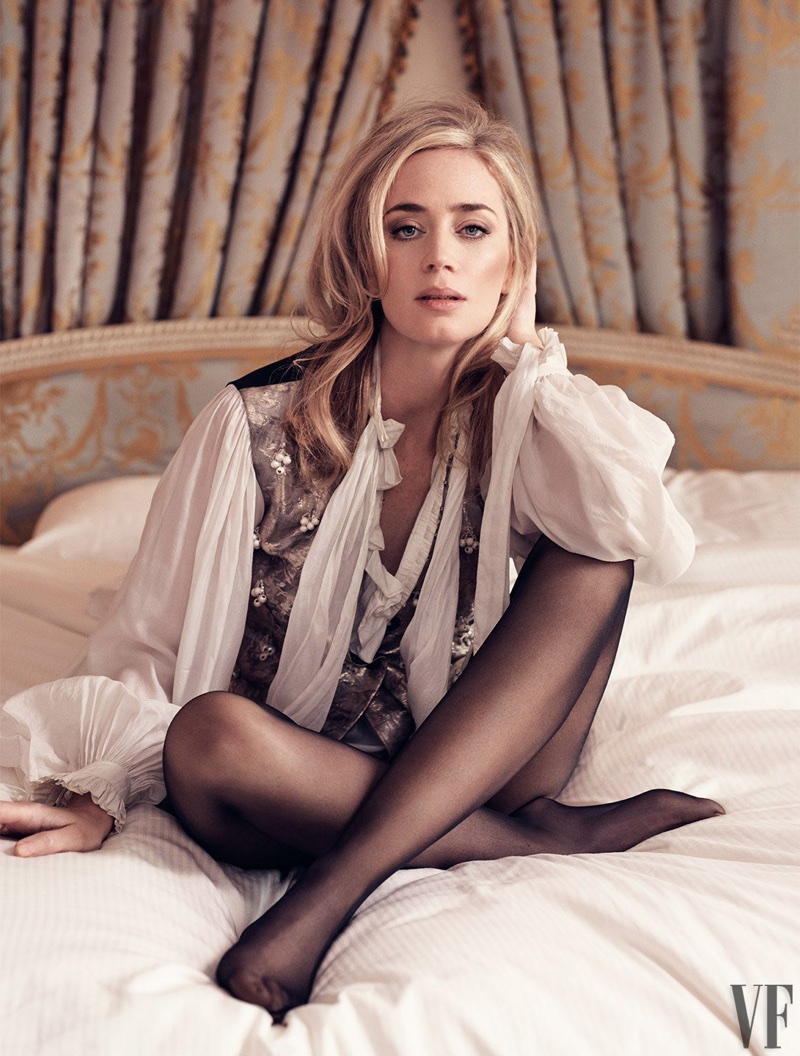 Posing in bed, Emily Blunt wears Louis Vuitton vest and blouse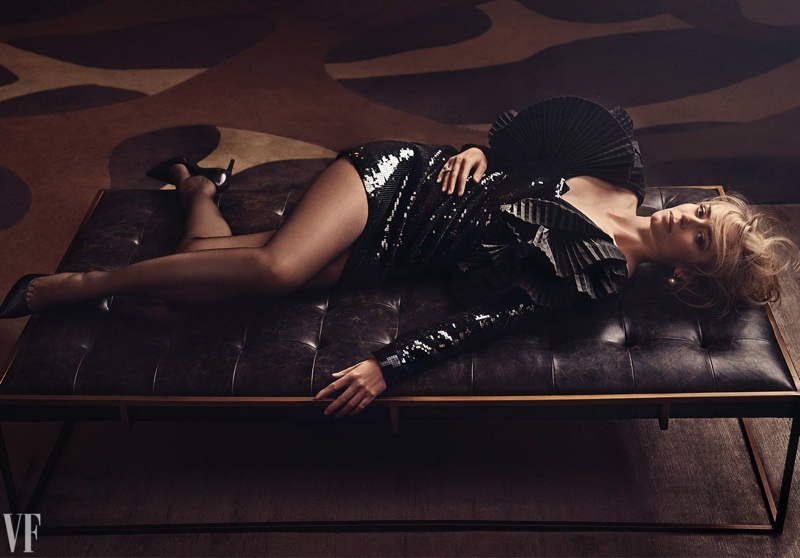 Actress Emily Blunt wears black Saint Laurent mini dress with sequins
comnum(0) tbcount(0) tbcount(316)
Categories:
Other Brands
Meet the Chanel Classic Side-Zip Wallet for the Cruise 2018 Collection. And maybe this wallet will join the ranks of the house's classics and will be available in every season. But for now, it's still new and it needs to proof itself (even tough it's called a 'classic wallet').
The Design
Just like any classic accessory, this Zip Wallet is crafted in diamond quilting to maximize the elegant look. The feel and experience is different than the lambskin and caviar though because it's made in grained calfskin leather. But this leather is as durable as caviar, but not as hard.
What's more? For this season, this wallet is refined with ruthenium metal black hardware instead of the regular silver or gold hardware. The metal black matches perfectly to the classic black shade, but of course there are more variation of colors available.
Unlike the Zip Around Wallet, where you can zip the whole wallet open, this Side-Zip Wallet can only be opened from the top to the left. This new feature makes it a new item in the classic collection.
The Interior
The Side-Zip Wallet is comparable to the Classic Yen Wallet in terms of size. The interior is designed with organized compartment to help you store your essentials. However, do note that the depth of this wallet is small, so it will store less than the other medium sizes of the Classic Wallets.
The Prices And Sizes
Chanel Classic Side-Zip Wallet
Style code: A80053
Size: 4.1' x 7.6' x 1.2' inches
Prices: $1000 USD, €890 euro, £820 GBP, $1500 SGD, $5600 HKD, $1380 AUD, 4700 MYR
comnum(0) tbcount(0) tbcount(299)
Categories:
Other Brands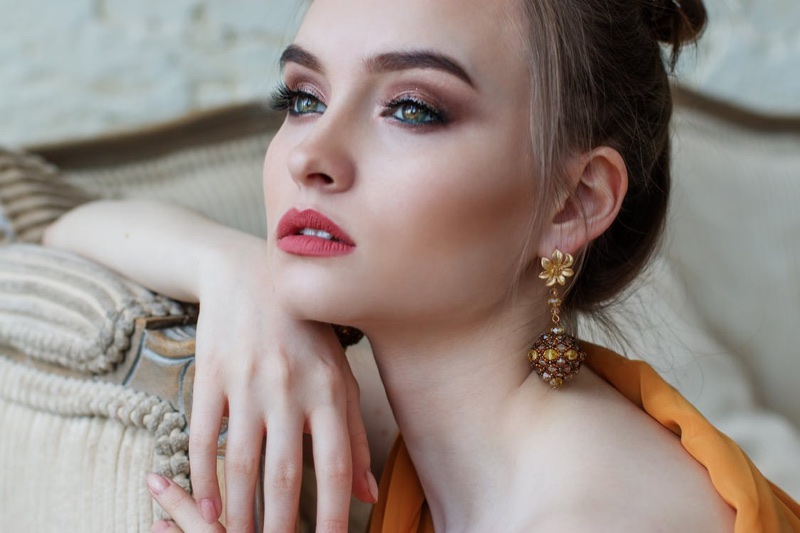 Photo: Pexels
Jewellery has been an important part of the human civilisation from times immemorial. Right from the days of the earliest civilisations, people have made jewellery out of almost anything, ranging from the cheapest materials like thread, common pebbles, wood etc. to the most precious stones, crystals, gems and metals. The innate desire to adorn the human body with jewellery has given rise to a huge industry of jewellery, spread across the world.
With the advent of digital progress, the internet has seen the rise of a digital jewellery industry. As more and more new digital jewellery businesses are coming up, along with the traditional ones taking to the digital space with their work and brand value, it is important to stand out from the crowd. This is where personalisation comes in. If you are planning to open your own business or have already opened, or even thinking of taking your existing business to the digital space, here is why you need to consider personalisation today!
SPECIAL VALUE
Personalisation gives a jewellery a special touch like nothing else can. When you give someone a piece of precious jewellery, it is indeed a very special relation. But if one can get a custom made personalised piece of jewellery for their loved ones, it is indeed incredibly special. A personalised jewelllery has the sentiments, love, value and meaning that is shared only between the one giving it and the one getting it. Hence, by offering your customers a chance to customise and personalise, you are bringing a smile on the face of someone's partner, parent, child or even a dear friend.
STANDING OUT FROM THE CROWD
Take a walk around your city and you will find dozens of jewellery shops, spread across the length and breadth of the city, some bang on the main roads, some tucked away in some obscure nook, some bright and shiny, some tiny and wondrous, like an alchemist's cave. Each has a charm of its own. While there are big modern stores, there are also traditional stores with a handful of craftsmen bent over a bit of a piece of precious metal or stone, creating magic with their tools. Every single of these shops is flourishing in their own ways. In order to survive in such a competitive market, filled with options, you need to create yourself a niche, which customization and personalisation can offer. With good work and right marketing this can be your biggest selling point, and even your business's unique feature, your USP.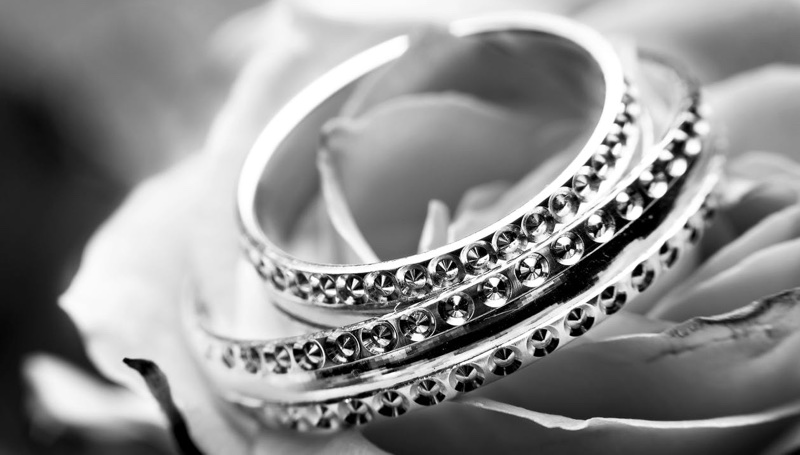 Photo: Pexels
UNIQUE DESIGNS
Your customers can create their own unique designs which will not only be incredibly special for them, it will also be great for your brand value. Every time your customers flaunt their custom made jewellery from your online store, it basically advertises you by word of the mouth. This can create a viable and loyal customer base for your which will help you promote your business simply through your work, without spending even a single extra penny.
MORE MONEY
When it comes to business, you are spending all the time, effort, as well as your precious capital, to create a viable income for yourself. Hence, money usually, and indeed rightly, is the first and the most important concern. Instead
of selling only generic jewellery, using designs which are basically the same for everyone, if you can offer your customers a chance to buy jewellery with customizable personalisation options, they are usually more than willing to pay a bit extra.
CREATING CUSTOMER LOYALTY
Customer loyalty is of utmost importance when it comes to business. Along with customization, it is also important to take some extra steps to create and retain loyalty. Here are some of the special touches that will go a long way in creating a customer base.
PERSONALISED TOUCHES FROM THE COMPANY
Nothing reaches out to people more than personal care and warmth. Build a special bond with every customer and maintain personal relationships. A great way to create a personal touch is to keep a record of their birthdays and anniversaries and to wish them on these special days. You can also launch exclusive offers only for them on these days. This will create a sense of belonging and instill the feeling that you care for them and want to make their day special. Small gestures go a long way in business.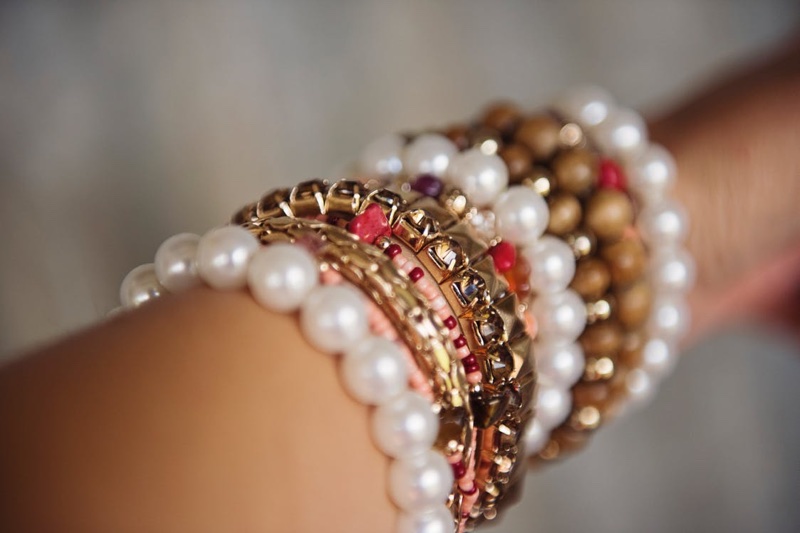 Photo: Pexels
GIFTS AND DISCOUNTS
The basic human nature is drawn to anything that says free or discount. The prospect of paying less attracts people like moth to flame. You can offer some discounts, maybe on certain festivals or special days. You can also give free gifts with a purchase of a certain value, or simply on special occasions or even. This will create a greater footfall on your online business portal, enhancing sales and building a stronger relationship with your clients.
UNDERSTANDING JEWELLERY
Often people do not know or understand how to choose the perfect customised jewellery. You can organise a workshop or class to help them understand and appreciate the processes through which their jewellery goes, in order for them to receive the perfect piece. They can learn about gemstones and how to pick the right cut for their diamonds. As they learn about the four fundamental parameters that determine the quality of a diamond, namely, Cut, Clarity, Color and Carat, collectively called the 4Cs, they will, in turn help you create better jewellery for them. You can take help of informative and authority driven websites like Beyond4cs.com etc. to inform your customers better and protect them from making a bad purchase. With proper slides and real examples, your customer will be able to identify and make use of the most authentic gems and metals to create fabulous pieces of jewellery which will uphold your name.
WORKSHOP FOR THE TOTS
Free or paid jewellery making workshops for the tots will also bring their parents to you. As they learn more about your jewellery shopping website, chances of making sales are higher. Parents love it when their children are engaged in a fruitful and fun set of exercises. This also gives them a free time to browse through your services. Often fellow parents also end up recommending and creating customers at such workshops, which helps you promote your brand without advertising. Moreover, by inculcating the love of jewellery, you end up creating an awareness and love among these little minds, who will grow up to be your customers.
Personalisation is the keyword when it comes to creating a customer base. In this competitive online business market with more options than ever before, personalisation is the one thing that can set your brand apart from the others.
Categories

New Posts

Hot Posts