Categories:
Other Brands
Backpacks are making waves again this season! And if you want to go along with this wonderful trend, we would suggest that you get yourself a great one, in the form of the MCM Extra Mini Bebe Boo Special Backpack. This ultra-studded stunner is a big winner in our hearts, particularly because of its intricate detailing (all THAT studs and sparkles aren't done in vain), and versatility, which we will expound later on. Seriously, if you're going to invest in a backpack, make the good choice with Bebe Boo! It's so cute, you couldn't possibly resist its charms. We know how it feels.
The bag has double detachable (and adjustable) shoulder straps, a single top handle, and a back loop, which allows you to attach it as a belt bag (which is super cute, in our opinion). Wear it any way you like – do the usual thing with double straps, wear it over one of your shoulders, give it a go as a crossbody, or be unconventional by using it as a belt pack! The world is your oyster, honey – and the possibilities are endless.
It even has one front zip pocket, two side pockets, and two internal card slots – something for the organization junkie who's on the go. Now, everyone's happy.
Priced at $1450 USD or €1406 EUR, get your very own Mini Bebe Boo Special Backpack via LuisaViaroma.
Tags: Mini Backpack Extra Special MCM BEBE BOO
comnum(0) tbcount(0) tbcount(522)
Categories:
Other Brands
Everything 'Extra Mini' is worth taking a look.
We've noticed the MCM for quite some time, we love this bag. And as backpacks are becoming the next hot thing in the fashion industry, we would like you to check this one out.
Presenting the MCM Extra Mini Stark Backpack.
There are studs everywhere and from tiny to big… in all sizes. Take the black and the mini studs look like the stars in the sky – gorgeous and attractive.
Carry this bag to add bit of rock to your wardrobe – or express your tough personality while going downtown. I mean you need a tough world right, especially in the big cities; nowadays you need to have some attitude to survive.
On the front flap, it comes with a metal logo signature plaque. The interior features two card slots and there is one front zip pocket and two side pockets to store your little essentials. This bag is made form cowskin and its really tiny (which is cute), measuring 20 x 17 x 8 (H x W x D) cm, priced at $1100 USD or €895 euro via Luisa Via Roma e-store.
Tags: leather Mini Backpack Extra MCM STARK
comnum(0) tbcount(0) tbcount(525)
Categories:
Other Brands
Please do not…
Do not hate us for repeating the same bag again, again and again.
Because we are not talking about 'just a bag', we're talking about the Chanel Extra Mini Chevron Classic Flap Bag.
And that means special treatment.
Well, we've covered extensively about the newest Chevron Classic Flap Bag. But we want to spend some extra time with the Extra Mini Classic Flap Bag, because it's gorgeous.
I do not have other explanation than that!
These latest mini bags are literally made-to-drool – they are the perfect companion for all your evenings and when your friends are getting a bit jealous, you deserve it.
Chevron is so different than quilted, it just don't feel the same way. And yet, together with the CC logo on the front, it creates a powerful impression.
What we also want to share about the Chanel Extra Mini chevron Classic Flap Bag, are the colors. They are available in fuchsia, black, blue, brown and grey. Each one of them is beautiful.
And it's not greed if you desire to have them all!
Tags: bag Chanel Flap Mini classic Extra Chevron
comnum(0) tbcount(0) tbcount(858)
Categories:
Other Brands
Introducing information on the Chanel Extra Mini Classic Flap Bag. The smallest version of the iconic Classic Flap is the extra mini size. Consistent with the Classic Flap Bags, the extra mini size features the classic quilt, interwoven chain and leather shoulder strap. The bag can be worn as a cross body, shoulder bag or even as a clutch bag. It has a leather interior with one small flat pocket. For the ardent fans of Classic Flap the extra mini flap is the carryall for only the most essential items. It can mainly store a smartphone, cash, credit cards and lipstick.
A comparison of this size over the Mini Flap, the exra mini flap is about the same size length but 2.0″ inches shorter in height as the Mini comes in at 5.5″H. Compared to the WOC it also comes in at 2.0″ shorter in height as the WOC comes in at 5.0″H and 7.5″L, and also about 1.5″ shorter in length.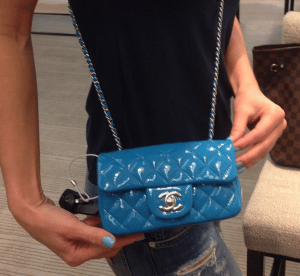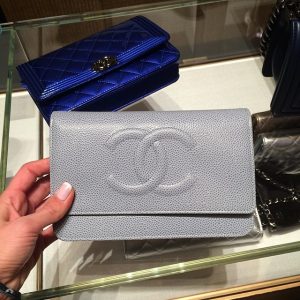 Style, Price & Size
| Style | US Price | Euro Price | Size |
| --- | --- | --- | --- |
| Chanel Classic Flap Extra Mini Bag | $2,400.00 (USD) | €1,620.00 | 3.9″ x 6.7″ x 3″ |
Gallery
Tags: bag Chanel Flap Mini classic Extra
comnum(0) tbcount(0) tbcount(848)
Categories:
Other Brands
We adore very much the Chanel Extra Mini Classic Flap Bag, we've seen a lot of colors throughout the years, in black, in fuchsia, in beige, in white, you name it. They are usually crafted in caviar or lambskin, both leathers are lovely.
READ: Chanel Extra Mini Classic Flap Bag in Fuchsia
If you've been following us so far (and we assume you've), then you can't have missed the Extra Mini Classic Flap Bag in Baby Blue, which has been released for the Cruise 2015 Collection. How can so small shines so big? The Mini Bag was made in Patent, it melts you right away!
READ: Chanel Extra Mini Classic Flap Bag in Baby Blue for Cruise 2015 Collection
Now, what you've been (probably) not informed, is that the Chanel Extra Mini Classic Flap Bags are also available in (Metallic) Patent, in eye-blinding colors light-purple. We've seen how powerful the Metallic Patent handbags can be, how much impact it can creates when we carry it around.
Ideal for the evenings, perfect for day, in the weekends, the Extra Mini is built to carry every day and on any occasions. It's an one-time purchase and definitely worth your investment. These styles are from the Fall Winter 2014 Collection and the Cruise 2015 Collection.
Tags: bag Chanel Flap Mini classic Extra
comnum(0) tbcount(0) tbcount(523)
Categories:
Other Brands
Anyone who has ever taken even the slightest interest in the fashion world knows about the Celine Flap Bag. It is the timeless piece that set the pace for the Chanel fashion line, and is undoubtedly a favorite in the fashion community. Its gorgeous, feminie quilted exterior design held down by the classic 'CC' padlock and stunning chained shouder strap can be spotted a mile away, and that's one of the many reasons why it has become so immensely popular. After all, what woman doesn't want to be noticed wearing a classic Chanel piece?
But if you are a fan of petite accessories or just like to switch up your look a bit while still sporting an over-the-top popular and elegant bag, you may wonder where to turn- especially if your heart is set on a Classic Flap Bag. Well, we have great news for you. The Chanel Mini Classic Flap Bags were released for ladies like you, who love compact sizes and beautiful designs. There are two sizes available including the mini classic flap bag, which is obviously smaller than the origina, and the extra mini classic flap bag which is incredibly smaller than the original- almost appearing as a wallet bag. They are obviously the smallest styles available for the Classic Flap Bag, yet still hold on to the original appeal of the bag.
These two gorgeous, compact bags are an obvious hit in the fashion industry- for obvious reasons. They include all of the Classic Flap Bag favorites, including the fashionable diamond design and chained shoulder strap, cute interior with several pockets and back exterior pocket, all wrapped up into a smaller size that many ladies find petite, perky, and ultimately feminine- and that's something any lady can enjoy.
Mini Classic Flap Bag Size: 3.9' x 6.7' x 3' (rectangular 7 inches)
Extra Mini Classic Flap Bag Size: 5.3′ x 6.7′ x 3.1′
Tags: bag Chanel Flap Mini classic And Extra
Categories

New Posts

Hot Posts